(The Good, The Bad, and The Ugly)
April 2019―First of all I must apologise for my lack of articles for many months.  As you may know, our website was hacked in a rather malicious fashion, and, even though it is partially repaired, the most recent Penny's Pen that can be accessed is from May, 2014!  The latest information about bringing the website back on line fully is that we anticipate that it will happen soon.
We therefore decided that, in order to keep you updated with events here, we would occasionally send my articles as email attachments to everyone on our list of correspondents.
The Good
As reported last year, we started a morning service in addition to our evening service on February 4th.  The average morning attendance for the 48 weeks between starting the two services and the end of the year was 14, and the average evening attendance was 23.  During that time period only five times were there more warm bodies in the morning service than the evening.  This move resulted in an interesting phenomenon, namely that, even though the services, with rare exception, are identical (along the lines of a church having two identical morning services), an average of about 6 people each week chose to come to both, thus making the average total attendance 31 after subtracting overlaps.
As soon as we started morning services, we started serving lunch to those who attended, along with anyone off the street who came in looking for a meal, and we delivered meals to any of our regular attenders who were unable to attend because of sickness.  Those who come in the evening still get their snacks to enjoy during fellowship time or to take home.
Shortly after that, a gift of large print Bibles was made to the fellowship, for which many of our people have been enormously  grateful.
The third Sunday in February 2018 we had the pleasure of welcoming six members of the Selma (Ala.) Reformed Presbyterian Church to our evening service.   André Pickens preached a very powerful sermon, and we raised the roof singing psalms in four-part harmony.  It was glorious.  Just as our guests were leaving to go home, there were gunshots very near our building, so the ladies and gentlemen of Selma maybe got a little more of the Bluff experience than they had anticipated!
That same morning, William (Bill) McCoy had been baptized.  William had started coming to church in April 2017, having been invited by our semi-resident diaconal assistant, Robert, who had also been witnessing to him.  Living in a van and undergoing the final few weeks of chemotherapy treatments for lung cancer, Bill lapped up all that he could learn about Christian doctrine, and asked the kind of probing questions that led to his coming to a point that he could fully articulate the gospel.  With his chemotherapy treatments having ended, he started to look more healthy and his hair started to grow back but then he discovered that the cancer had reappeared, this time in his brain.  William started failing rapidly, and it was obvious, with slurred speech and confusion, that things would only get worse.  He therefore urgently requested that he be baptized while his brain still functioned.  The Atlanta Commission pulled out all the stops to figure out a way that this could be achieved even though APF was only a preaching station with no authority to conduct baptisms. Thankfully, with RPCNA approval, we were able to arrange to have Southbridge Community Church, a congregation of the Reformed Presbyterian Church (Hanover Presbytery) in Savannah, Georgia, to receive him, and we then were able to conduct his baptism at APF under the auspices of that congregation.
The baptism took place on February 18, 2018, and William went to be with Jesus less than four months later.
Adult Sabbath School has been humming along with an excellent series on People of the Bible by our deacon, Sean McPherson.   Unlike many adult Sabbath School groups, there is a lot of lively interaction and Sean has to be ready, constantly, to field all sorts of questions.  He is always prepared to take his time in making things clear, and is even willing to travel down sanctified rabbit trails for a while if it is of benefit to the assembled group.
One unusual event that took place last year was a workshop entitled Ask A Lawyer which was held on a Saturday morning in May.  A colleague of Pastor Frank's, a business law professor from Georgia Gwinnett College, Dr. Vlad Bursuc, talked to interested people from our group about points of law with which they may have had negative experiences or were concerned about.  These ranged from their rights while being questioned or arrested by police, to how to complain about landlords unwilling to make repairs, to how to deal with unhealthy and unsanitary conditions in their apartments.  He also covered the best way to apply for and achieve welfare, disability income, and other matters.  He left plenty of time for questions, and had a number of printed hand-outs for people.  It was considered a great success, and Dr. Bursuc has indicated his willingness to return and hold another such workshop.
In an effort to get together socially with our brothers and sisters at the Birmingham (Ala.) Reformed Presbyterian Church, we held a psalm-sing with them in December last year.  A large group turned out for the event in Birmingham, and Pastor Frank and I rented a mini-van to take ourselves and five other people to represent APF.  We had a wonderful time, with one of our teenage young ladies even requesting Psalm 23B during the requests time, and another teenage young lady admitting afterwards that she was too shy to make the request but that she wanted to ask for 68E, showing that the young people in our group are really starting to appreciate the psalms.
Several of our young people, even down to almost the youngest of them, are starting to sing some of the psalms without the need of the psalter. They have memorized selections such as 100A, 106A, and 134B, and, according to their mother, can even be heard singing them around their home.
Still a little young to join in singing the psalms, although he does a good job of beating time, just like his mother Anne, our precenter, Samuel McPherson looks like a promising Sunday School teacher, sitting in his father Sean's chair before the start of the adult class.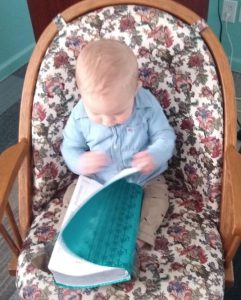 The most exciting thing that took place recently was that APF was granted Mission Church status at the Great Lakes-Gulf Presbytery meeting February 28th – March 2nd, 2019.  This is something that we had been working towards and praying for, for several years, and was a cause of great celebration and thankfulness to the Lord.
One Thursday in February this year, when Pastor Frank was in Atlanta visiting some of our folk, he spontaneously suggested getting together for a Bible study that evening, and he ended up with 14 people in attendance!  Those studies have now turned into membership classes, with each lesson delving into the meaning of each of the seven vows of church membership.  At the same time, he is continuing his sermon series on the sacraments which he had already begun, but with extra emphasis now that many of our people are looking to the possibility of becoming communicant members.
We continue to have Sabbath school classes for all age groups, with faithful teachers for the older children, the younger children, and adults.
Miss Amy Work continues to invite our two teenage girls over to her apartment once a month to engage in some food preparation followed by instruction appropriate for young ladies.  On one occasion she was joined by her parents, visiting from Ohio.  Her father, Rev. Steven Work, preached for Frank the following day and on one other occasion recently, and her mother, Jeannie, helped teach the girls how to prepare a healthy evening meal.
Miss Amy and Jeannie brought a meal for lunch after the service the following day, and the apple pies turned out brilliantly, providing a wonderful dessert: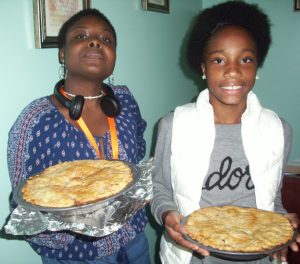 The Bad
Given the nature of the ministry, and the fact that people whom we don't know are often invited in off the streets, we have to be careful about making sure that our valuable items are safely secured.  Since we moved into the duplex nearly four years ago, there have been four occasions on which phones were stolen.  Amazingly, on three occasions they were retrieved when we realised very quickly what had happened (on two of those occasions, we were able to give chase by means of the phones' GPS tracker).  The first time that happened it was a phone belonging to a Korean-American lady who was visiting and had brought others who were visiting the States from South Korea.  It was all rather exciting, with two of our men giving chase in a white pick-up truck and finally cornering the thief in a back yard behind a convenience store.
In April last year it was my phone that was taken, and when Pastor Frank got near the lady who had stolen it and called it, and it rang, she took off running, throwing things at him including rocks and bottles, two of which smashed near his feet.  A tree branch actually hit him in the chest.  Frank called the police and me to his location and the three of us continued the chase.  She had thrown the phone away but by continuing to call the number we eventually found it. She has tossed it behind a large dumpster located on vacant ground between the backs of houses and an apartment complex.  The thief was let off with a warning.  On the third occasion we were pretty sure that we knew who had taken it, and simply tracked her down near the church building.
Another interesting  incident occurred on a Saturday morning in May, when Frank had been asked to speak at a neighbourhood gathering designed for distribution of food and clothing, and for former drug/alcohol addicts to give their testimonies.   At one point I was driving back to the event from the church by myself when I came up behind a car from which both the driver and passenger were firing into the air, scaring to death four young men who were running, weaving and trying to get away from the shots.  It didn't look as though the shooters were trying to kill, just to scare–probably a drug deal gone bad.  I turned off onto a short street and pulled over but then heard local residents shouting and begin running indoors or diving for cover.  That was because the car and its quarry had turned around and were coming up behind me, so I slid down in my seat to make sure I was below the level of the car windows.  And I prayed.   I called Frank who came, along with a couple of armed security guards, but the perpetrators got away.
As you can imagine, we try to keep our building as kid-proof as possible, but somehow, a canister of Drano and a spray bottle of bathroom cleaner containing bleach, found their way under the sink of the bathroom used by the little kids' Sunday school class.  In January of this year, a six year old boy found them, took the tops off both containers, and poured the contents into each other and into the sink, thus producing a cloud of thick green gas that emanated from the drain.  The Sunday school teacher (Miss Michele) picked up the canister which was too hot to handle, dropped it into the sink–and immediately a small explosion came out of the top.  She called out "gas!", at which point, our deacon, Sean, who was teaching the adult Sabbath School class, tore upstairs, grabbed the canister with a wad of paper towels, flew back down the stairs, out the front door, and tossed it as far away from the building as he could.  The child had made chlorine gas, which, after we opened doors and windows, dissipated quickly.   Even though Cl2 is very dangerous and potentially fatal, no one, by God's grace, was seriously hurt (though Miss Michele did have numbness on her tongue for a few days).
And The Ugly
As might be expected in a ministry such as APF,  there is never a dull moment, and disruptions can occur even during the worship service.  Things such as:
–  One Lord's day in August Pastor Frank invited a lady in off the street during the Sabbath school time.  The lesson was on Elijah and the prophets of Baal.  "Whom will you serve?".  One of our regular ladies asked a question about how to witness to others, and the visitor became extremely agitated.  She started talking drivel, about how you can worship any higher power as long as it's not a jar of mayonnaise.  As our teacher and Frank tried to explain to her that Jesus is the only way to be saved, she kept arguing over the top of them.  Eventually she started to walk out but changed her mind and came back and sat down with the obvious intention of continuing to disrupt the lesson.  She continued to talk over the teacher, accusing him of not knowing what's in the Bible, and, thankfully, did eventually leave.   Our blind lady, who is a true prayer warrior, was sitting right in front of the visitor and became very upset, saying that it had been a demon that was sitting behind her.  Our eyes, of course, are not open to the spiritual warfare that is taking place over the Bluff, but occasionally we do get glimpses of it.
– Also in August, Pastor Frank had invited to church a lady he had met in Burger King.  He called her on Saturday evening to arrange to pick her up the next morning.  For about a full half an hour she did nothing but hammer him about how churches don't do anything to help people.  So he tried to bring the conversation to an end and she said, "that's it?"  So she obviously expected something.  It ended up with Frank saying he'd pick her up so that she could have a hot shower and lunch at the church after the service the next day.  However, the effort to find her was extremely time consuming, as she was not giving clear direction as to where she was.  When we finally found her, she said that she saw a spider crawl into her bag and she wasn't going anywhere with that spider in there.  We had to give up.  Our relationship with this lady continued for some weeks until we became pretty confident that she was never actually going to come to church.
– In September a very strange man came into the service, peering around at everyone in a most creepy fashion and making movements that made everyone uncomfortable.  His antics eventually became so disruptive during the sermon that two of our men tried to coax him out, but he wouldn't be moved.  Not long afterwards, however, he left on his own.
Finally
As many of you know, Pastor Frank and APF have been very warmly received and appreciated by the residents of the English Avenue and Vine City districts of Atlanta, where the Bluff is located.  As mentioned in a previous article, City Councilman Ivory Lee Young and his wife Shalise had developed a very friendly relationship with Frank over a period of several years.  We were therefore most saddened when Mr. Young became gravely ill and passed away.  Pastor Frank was honored when asked to participate in Councilman Young's funeral.  In attendance were the current mayor of Atlanta, several previous mayors, former U.N. Ambassador Andrew Young, Congressman John Lewis, police and fire commissioners, and too many ministers to count.  The presence of these dignitaries was a token of the esteem in which Councilman Young was held.  Pastor Frank was able, briefly, to comment on Councilman Young's faith and compare him with other Christian statesmen in history, specifically Alfred the Great, Edward VI, and Abraham Kuyper.
We were also saddened by the passing of RPCNA elder and friend Bob Shapiro, who went to be with the Lord in September following a lengthy battle with cancer which suddenly worsened in the final few weeks.  Bob and his wife Patty and daughter Abby were supporters of APF and attended when they could, his final worship service attendance with us coming less than three weeks before he died.
Prayer Requests
Please pray that the Lord would give the leaders at APF:
– Wisdom―to know how to deal with some very difficult issues that arise within the congregation.
– Stamina―that we would, like the apostle Paul, be willing to spend and be spent.
– Resilience―in the face of spiritual attack.
"All of our own strength is weakness, and all of our own wisdom is folly"  (John Owen).
Please pray that our people would come to understand the meaning of church membership and be willing to work towards becoming qualified to participate in the Lord's Supper and, where necessary, to be baptized.
Please pray for those of our number who are suffering physical health issues, and for those who are suffering from depression.
In terms of practical considerations, our most urgent prayer request is for a new meeting place.  When our lease is up at the end of August, the owners of the duplex in which we meet will be upgrading the building and turning it into an airbnb.  We therefore have less than five months to find a new facility.  It would appear that we will have to find a temporary place while we continue the search for something permanent.
Having been ministering in Atlanta now for a total of ten years, and, as of April, in the Bluff for nine years, we reflect on the many ways in which the lord has blessed us, and we look to him to meet our needs.
"Trust in the Lord with all your heart and lean not on your own understanding.  In all your ways acknowledge him and he will direct your paths"  (Proverbs 3:5-6).