About Pastor Frank J. Smith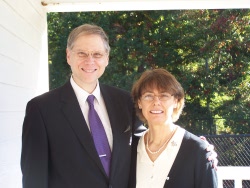 Born in Atlanta, Frank J. Smith grew up in the South. After college, he moved with his family to Westchester County, New York, where his father was planting a congregation for the Presbyterian Church in America (PCA).
Following graduation from seminary, Frank J. Smith did a year's internship in northern New Jersey, before returning home to assist his father. Thus began a father-son ministerial team that lasted for thirteen years, until the elder pastor passed away.
Besides ministry in New York, Frank J. Smith has pastored in the coal-mining area of southwestern Virginia, and in rural Wisconsin. He and his wife moved to the Atlanta area to pastor the Northminster Church which is part of the Reformed Presbyterian Church of North America (RPCNA) in Alpharetta.
Pastor Smith graduated from Covenant College, Lookout Mountain, Georgia. He earned his M.Div. and Th.M. from Westminster Theological Seminary in Philadelphia. His Ph.D. is from the Graduate Center at City University of New York. In 2005, he was awarded an honorary doctorate (D.D.) from the Methodist Episcopal Church in the USA in conjunction with the National Clergy Council, for his work in ecclesiastical journalism and interchurch relations.
Among his books are The History of the Presbyterian Church in America: The Silver Anniversary Edition; Worship in the Presence of God (co-editor and contributor); and Tales from the City: Real Stories of Urban Christian Ministry (editor), which detailed the ministry of an interdenominational, multi-ethnic group in Atlanta. His recent articles have focused on the history of science and the doctrine of worship.
Dr. Smith is the Founding Editor of Presbyterian International News Service (PINS). He served two terms as President of the Coeburn (Va.) Ministerial Association; is on the Board of Advisors for the Cornwall Alliance for the Stewardship of Creation; and is a Contributing Editor for The Confessional Presbyterian, a scholarly journal.
He is married to the former Penelope A. Wild, a British lady with a distinguished career in the Royal Air Force. Their son, daughter-in-law, and five grandchildren live in Gwinnett County.
He has coached basketball, has had bit parts in movies, and enjoys reading and playing chess. And oh yes, he is a railroad fanatic.