In the December 31, 2021 issue of Penny's Pen, we told you the story of Larry Kerr (though not by name).  He had professed his faith and joined the church from a hospice bed in July 2021.  At that time Pastor Frank was told by the chaplain that it was anticipated that Larry would pass away within a couple of weeks.  Instead, two weeks later, he checked himself out, caught a bus and then a MARTA commuter train, and went back to his apartment.  However, it is my sad duty to tell you that he has now passed away.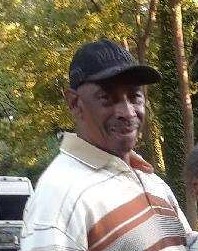 After checking out from hospice, Larry attended church as he was able. However, he also showed some signs of backsliding at times. On October 20, 2022, as a result of a traffic stop, he was arrested down in Newnan, Georgia, and eventually transported back to Atlanta to face several charges (mostly, we believe, trumped up by one or more persons who wanted to destroy him). On November 23, 2022, while in custody, he passed away of an apparent heart attack at the age of 66.
The memorial service was held at our church on December 11th in conjunction with our regular worship service, and it was a very moving time. As Pastor Frank recounted during the sermon:
In his sixty-six years, he lived a colorful and, in many ways, a difficult life. He was a cracker-jack mechanic. He was an automobile racer. He was one who fell afoul of the law and served time. He had a rough edge to him at times, but he could also be sweet. He was well respected for his honesty and telling it like it is. For the last year and a half, he was living on borrowed time. We all expected him to die in July 2021 when he was in hospice. It was during that time that he was able to profess his faith and join the church while on a hospice bed.
Larry, with his sister, Helen, showing off his membership certificate
But a couple of weeks later, he showed his courage when he got up from his hospice bed, hopped on a MARTA bus and train, got picked up by his daughter at West Lake station, and went home. He told me he was tired of being around people who were dying—he loved life! And, while in prison years before, he read through the Bible about four times—which leads us to our text for today:
Psalm 119:71-72.  It is good for me that I have been afflicted, that I may learn Your statutes.  The law of Your mouth is better to me than thousands of coins of gold and silver.
After speaking of the word-oriented nature of Psalm 119, Pastor Frank presented the first major point, viz., the Role of Affliction. Affliction could entail many things, including loss in relationships, and also being imprisoned, whether justly or unjustly. Whatever form it may take, affliction is not fun—nobody wants it.
But the psalmist speaks of the goodness of affliction. Why? For at least six reasons.
Because it reflects the sovereign will of God who is good.
Because it enables us to understand the horribleness of our sinful nature.
Because God uses affliction to get our attention.
Because affliction is used by God to make us more dependent on Him.
Because affliction enables us to see beyond this life to life eternal.
Because affliction teaches us as to what is actually important
What is being learned through affliction? God's statutes; God's commandments; God's law; God's word.
Among the things that would especially be learned and believed and kept are, negatively, to keep away from the horrible greasiness of sin (v. 70); and positively, to honor God as He should be honored: listening to His word; respecting His worship; honoring His Sabbath; believing His gospel; and living for Him.
What is being taught in v. 71 was Larry's experience. He knew that he'd been disobedient and hadn't been living like he should've been the last several months. He referred to jail as his 'house of correction.' And he started to read through the Bible once again. This is why he really wanted reading glasses, so he could read without difficulty. This is why he wanted his own Bible. . . . He was able to internalize the word through this affliction.
In commenting on The Preciousness of the Law, the preacher noted the value which the psalmist places upon this law. It was better than thousands of gold and silver coins.
There is in this text a rejection of materialism and an affirmation of spiritual blessings. More than that, we learn many things from God's revelation to us.
It tells us who we are, creatures made in God's image. It reveals who God is. It informs us as to the history of mankind. It speaks to us of God's love. It gives us rules for living. It serves as the conviction of sin. It points the way to salvation. . . . We all have rap sheets demonstrating our condemnation in God's courtroom. Yet we also have a Savior who has paid the price for those crimes against heaven. And we have the certainty of our own resurrection someday and our being in heaven forever. [Indeed, God's revelation] provides comfort to the soul.
[And] it is precious because you can take this truth with you into eternity. Death is a great leveler. We're all going to die; every one of us will someday experience the coldness of death.
Larry didn't have a lot of possessions; but, every person, rich or poor, will not be able to take any material things into the next life; [speaking of a rich person, the question was asked,] "How much did he leave?", and the answer was, "He left it all!" . . . But you can take the certainty and the promises of God's word with you into the grave and beyond.
This preciousness of God's word was what Larry experienced in the last month of his life on earth. By his own statement, he was 'eating it up.' His enthusiasm and desire for and interest in and love for the word of God put me to shame. Psalm 19 refers to the law of God being sweeter than honey to the lips.
And then Pastor Frank said,
Let me share with you something that happened a week and a half ago. On Wednesday, November 30th, late in the afternoon, I got a phone call out of the blue. It was from a lady who told me that her son had been a cellmate of Larry's at Rice Street [Fulton County Jail]. This fellow had heard that Larry may have died and he wanted to see if that was true. She said that her son had been reading the Bible that Larry had left behind; and her son wanted her to  contact me, as he knew that I was Larry's pastor, and he gave her the contact info from what Larry had written down. I was able to confirm that Larry had indeed passed a week before; I thanked her for the phone call and said that I was sure that Larry would be glad to know her son was reading Larry's Bible. About 40 minutes later, I had a sudden urge to call that lady back: I had not really gotten her name and I wanted to follow up with her. Lo and behold, when I called, she was on the phone with her son at the Fulton County Jail, and we were able to have a three-way conversation. The son shared with me how Larry had counseled him and another fellow in the jail. And then, he read to me a letter that Larry had written to Miss Penny and myself but hadn't been able to send [though the post card on which he wrote this message was finally mailed and received]; this letter had to have been written very shortly before he died—perhaps even the same day. And here it is!
Greetings: Pastor Frank and First Lady Mrs. Penny:                                                    May the grace of our Father and Lord Jesus Christ in heaven be with you all.                   I thank you for my glasses. Very much. Amen.                                                                "The Spirit of the Lord God is upon me: because the Lord hath anointed me to preach good tiding unto the meek:  he hath sent me to bind up the brokenhearted, to proclaim liberty to the captives, and the opening of the prison to them that are bound."—Isaiah 61:1.                                                                                                                                     For me and you and T.J. [Pattillo, the elder at our church], Amen.  I've never seen so many people [who want] to read the Bible.                                                                           Happy Thanksgiving.  Our Lord Jesus' love be with you.
This, we can say, is Larry's last will and testament.  It expressed his own faith and his desire that others have it, too.  Larry had a rough life—but, you know, it doesn't matter how you begin, but rather how you finish the race. 
Larry had one daughter, five grandchildren, and seven great-grandchildren. What a legacy! To these family members, and others (sisters, brothers, nieces, cousins), we at ARPC offer our sincere condolences, as well as to his friends and acquaintances. Please know that we at Atlanta Reformed Presbyterian Church also grieve—we loved him, and he loved us.
The message that I have for all of us here today is simple: Follow the example that Larry Wayne Kerr left for us. He delighted in the word of God and found his comfort and joy in it. And the reason why he was able to benefit from it, was because that word pointed him to Jesus, his Savior. Christ is the only Redeemer of God's elect—paying the price not with silver and gold but with His precious blood. Jesus Christ not only died for Larry's sins but rose again from the dead. Larry looked to Jesus by faith, trusting in His sacrifice at the cross and  believing in His resurrection. And Larry knew that Jesus would some day raise him from the dead, too. You, too, can have that same hope and assurance by believing in Jesus, just like Larry Wayne Kerr did. And so I call upon you to treasure the law of God and appreciate its preciousness, far above thousands of fine coins of silver and of gold.
I don't think there was anyone in the congregation who was not deeply moved. It was a solemn and serious occasion, and a very poignant one, but also one filled with the hope of the resurrection, too. We will miss Larry. Though we rejoice in his release from the trials of this life, physical and spiritual, we still grieve.