May 10th, 2019
As reported in my most recent article, one of the most exciting things that took place this year was that Atlanta Presbyterian Fellowship was granted Mission Church status on February 28, 2019 at the Great Lakes-Gulf Presbytery meeting.  One result of the change is that people can now become members in the church, and we can observe the sacraments.  This was something that we had been working towards and praying for, for several years, and was a cause of great celebration and thankfulness to the Lord.
The following day, March 1, Pastor Frank accepted the call to be the organizing pastor.  The men of presbytery do not normally applaud the acceptance of a pastoral call, but in this case they did, given the fact that the work had begun as a preaching station almost ten years earlier, and the process to become a mission church had taken about five years.  There was a sense of excitement and relief that we had finally met all the requirements of the presbytery.
The men who had been serving on the Atlanta Commission were relieved of duty, with thanks, and a TGB (Temporary Governing Body) comprising the elders (as individuals) on the session of South West Ohio Reformed Presbyterian Church (SWORP), led by Pastor Dick Knodel, took on this responsibility.   When it was noted that South West Ohio is a long way from Atlanta, Pastor Knodel quipped, "It's not that bad really.  After all, we're located on the same street: I-75!".  And, of course, Pastor Steven Work, one of the SWORP elders, who is also the moderator of the TGB, has a really good reason to head south, namely that his daughter, Miss Amy Work, is deeply involved with us as the children's coordinator.
The installation service was planned for Friday, May 10th, and the TGB came down to conduct the proceedings.  We were gratified to have a large number of people in attendance, including representatives from the PCA, OPC, ARP, and the Free Church of Scotland Continuing.  With 55 people there, we were at maximum capacity.  Everyone, except for some of our local residents who needed to be picked up, had arrived early and were seated well before the start time of 6:30pm.
However, as Pastor Frank was still picking people up at 6:22pm, and was approaching an intersection in our residential area, a car coming from the right failed to yield at a stop sign and Pastor Frank collided with him, hitting his rear end and pushing the back end of his car into a telephone pole.  One of our guests drove me to the site of the accident so I was able to go back to the church and inform everyone of what was happening.  Naturally, everyone was upset and concerned for Frank.  Pastor Work prayed a beautiful prayer which helped us all to be calm.  He then suggested that the group pray and sing Psalms while things got sorted out.  Another of the SWORP elders, Tim Vincze, led the singing, while my daughter-in-law, Bethany, and I went and picked up those who still needed a ride to get there, as did Elder Warren Jackson, who had led the Atlanta Board of Advisors while we were still a preaching station.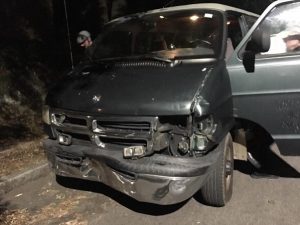 After the police had taken the details, including citing the other driver with "failure to yield", Frank was able to drive the van back to the church, and the service started about one hour late.  Pastor Knodel preached the installation sermon, Elder Tim Vincze prayed the installation prayer, Pastor Work gave the charge to Pastor Frank, during which he warned him that he and the congregation would be under increased spiritual attack, which had already been demonstrated that evening, and Elder Scott Damerow gave the charge to the congregation.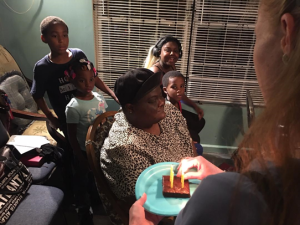 During the fellowship time following the service, Miss Amy Work, our Children's Coordinator, presented faithful attender, Miyoshi, with a birthday surprise.
A rather dramatic ending to an already dramatic evening occurred as people were fellowshipping outside of the building, when the Moderator fainted.  After being treated at the hospital, he was released with no serious issues.
May 12th
Two days after the installation, following the evening service, Pastor Frank led the congregation in a discussion about whether or not to change the name of the church.  Following a lively and respectful discussion, the name Atlanta Reformed Presbyterian Church was adopted, with the intention that it be shortened to Atlanta RPC when appropriate.
June 27th
As also mentioned in my recent article, in terms of practical considerations, our most urgent need was for a new meeting place.  We were told by the owners of the duplex in which we have been meeting for more than 4 years that when our lease is up (originally at the end of August, but now at the end of September) they will be upgrading the building and turning it into an airbnb.  This led to months of scrambling to find a new location.
On June 27th, Pastor Frank and I travelled into downtown Atlanta to meet with one of many local pastors with whom he had spoken on the phone or met in person.  Pastor Gates had indicated to Frank that the church may well be willing to rent, and was even looking towards the possibility of selling the building.   Pastor Gates had led the small group of parishioners at The Beginning Walk of Faith Church for many years and is ready to retire and disband the group.  We met him there along with his wife, son, and a deacon and his wife.
The building, originally built as a broom factory, is in need of a lot of TLC, with ceiling damage, some rotten timbers and a musty smell.  But it is of a solid cinder block construction and therefore, we are told, has good bones.  Neither the worship area nor the social hall has windows.  There are rooms for the two children's Sunday school classes and a cry room.  Discussions regarding the cost of rental began that afternoon, after which Pastor Frank and I carried on to the duplex for a Bible study, held in the evening.
On the way home following the Bible study, heading north out of Atlanta on a busy highway, Pastor Frank lost control of the car, which seemed to take on a mind of its own, causing us to swerve in one direction all four lanes of traffic, then back the other way.  At this point we were perpendicular to the traffic and slammed into the concrete centre divider head on.  We bounced back, spun around, and finally came to a stop.
I was able to open the door on my side and crawl out.  Frank had to clamber over to my side to get out.  The fact that we weren't hit by any other cars is a miracle.  Frank was not badly hurt, only a cut lip from hitting the steering wheel, which needed stitches, and a mild whiplash.  I was not as fortunate.  I had a severe whiplash, and bruised ribs and chest wall from the seat belt, which is OK seeing as it saved my life.  We hit the wall so hard that our glasses flew off our faces.  I couldn't move most of the upper half of my body including my neck or head, so I wasn't able to see the two police cars, fire engine or ambulance when they arrived.  I got scooped up and taken to the hospital and had a couple of x-rays and CAT scans on my neck and back which revealed that nothing was broken.  I was out of commission for a while, unable to attend church for five weeks, but am just about back to normal now, having undergone several weeks of physical therapy.
I must say that my husband was a wonderful nurse, cook, dish washer, cleaner upper, grocery shopper, cat parent, etc., etc., during the time that I was unable to perform these functions ?  Our family brought a week's worth of food, and we received many cards and well-wishes.  Miss Amy wrote down the duties that I normally perform at the church, and everyone stepped up to the plate and, between them, got everything covered.   Frank and I couldn't help but keep thanking and praising the Lord for our escape from serious injury.  It was remarkable that we hit no other cars as we swerved back and forth, that no-one hit us, and that therefore no-one else was injured.
Meanwhile, the hunt for a new location was put on hold.
July 10th
The moderator of our Temporary Governing Body, Pastor Steven Work, had come down from Ohio in order to preach for Frank on the first two Lord's Days in July.  On the evening of one of the days that he was in the area, he and his wife Jeannie met up with Frank at The Beginning Walk of Faith Church along with our two children's Sunday school teachers and three of our regular attenders to take a look around it.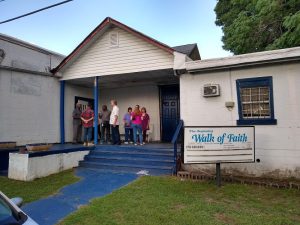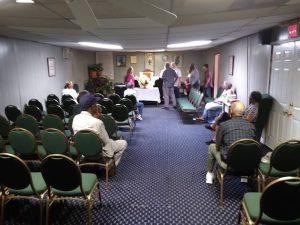 August 4th
We were saddened to hear from Sean McPherson that he and his family would be moving back to Pennsylvania, and that their last Sunday with us would be August 4th.  We have been extremely thankful for the McPherson family and so grateful to have them with us for three years.  Sean served as deacon, having been ordained in Meadville, Pennsylvania, and he did a masterful job teaching the adult Sunday school class.  He even preached on the first Lord's day following our car accident, turning his Sunday school material for that day into a sermon which was, by all accounts, extremely well done.
Seeing as Sean and Anne desired to transfer their membership to Atlanta RPC before leaving, it was arranged that they, along with Pastor Smith, Penny, and Amy Work, would take public vows of membership on their final day.  At the end of the evening everyone joined in a group photo.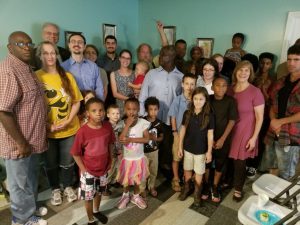 September 1st
For several years now we have been praying for and advertising for an intern to come along:
1) in order to be of assistance in diaconal work such as financial giving to those in need; in helping to bring local residents to church and take them home again (there are so many, from different directions, that we are unable to start Sunday school or the service on time); in assisting me with dealing with unruly people who wander in off the streets or who disrupt the service; and anything else that may come up.
2) whom Pastor Frank can take under his wing and mentor, to the point that the man might be sufficiently interested in the ministry that he might look at the possibility of assuming total responsibility when, for example, the time comes for Pastor Frank to retire.
Our prayer has been answered in the form of TJ Pattillo, who, along with his wife, had been a member of Northminster Reformed Presbyterian Church.  He was ordained years ago in the PCA as a ruling elder. He has taken some seminary courses and desires to take more, with the goal of becoming a pastor himself one day.  He is committed to Presbyterian doctrine and worship and therefore appreciates our denomination's distinctives.
TJ started worshipping with us starting in mid-August, and, with the permission and approval of our Temporary Governing Body, came on board as a member of the staff on September 1st.  Following the departure of our regular Sunday school teacher, TJ has assumed that role.   As you can imagine, we are very delighted and thankful that we can welcome this additional member to our staff.
September 13
Pastor Frank continued looking into possibilities for a new location for the church as soon as he was able, but none of the options seemed as viable as the "white building", as we now referred to it.  (As opposed to the "pink building" that we looked at, which really was painted pink, possibly because it had previously been led by a female minister.)
It had become evident that the pastor of the white building was more interested in selling it as quickly as possible rather than renting it.  He arranged for an appraisal to be done, which came back with a value of $250,000.  This seems rather high for a building that needs so much repair, but it has to be admitted that it is partly because of the location.  It is only two short blocks from a multi-million-dollar park that is being created, which, in addition to normal park features, will also have statues of African-American heroes, water features, and a tower up which one can climb to view the city skyline.  In addition, it is four blocks from the Georgia World Congress Center; about two-thirds of a mile from the Mercedes-Benz Stadium and a MARTA train station; about a mile from the Georgia Aquarium, World of Coca-Cola, and CNN Center; about a mile and a half from Bobby Dodd Stadium in the heart of Georgia Tech; and within two to three miles of several HBCU (historically black colleges and universities) institutions, including Morris Brown College, Clark Atlanta University, Morehouse College, and Spelman College.
After discussing possibilities such as "renting with option to buy" with the pastor, and with time running out on us, it was agreed that we would rent the building for six months for $1,000 a month (which is only $50 more than we pay at the duplex) during which time we would start fund-raising to see if it was feasible that we purchase the building one year from the start of the lease, for $200,000.   The Beginning Walk of Faith Church congregation would continue meeting there in the mornings for a while, until they disbanded.  During that time, we will continue meeting as we have been since the end of June, namely for Sunday school in the late afternoon and worship in the evening.
Pastor Frank and I met with the pastor, his son, and others at the building on Friday, September 13th, signed the agreement, gave the pastor a check for October's rent, and were given the keys.  We have already started moving our church furniture, Bibles, psalters, etc., to the new building and will begin services on October 6th.
Prayer Requests
For a smooth transition to the new building.
That many people in our new area will come and join us for worship.
That we will be able to raise funds to be able to purchase the building at some point during the coming year.
That we will be able to correct some of the more egregious issues regarding the condition of the building.
For safety in all our travels.