It is with great sadness that we report the passing of one of our church members, Andrew Jubera, on June 24th.  He was thirty-six years old, the fiancé of Jemika Crayton and father of six-year-old Micah.  He is also survived by his father, Andrew Jubera, and his mother, Cynthia Hizer.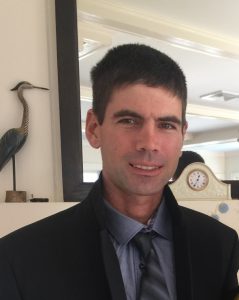 Andrew and Jemika had planned to be married on April 25th, but the wedding had to be postponed because of the Coronavirus pandemic.
Andrew had survived being run over by a pick-up truck at the end of January while riding his bike into a Wendy's parking lot.  As reported in my most recent article, after spending several days in hospital, with broken ribs and other injuries, he made an unexpectedly fast recovery, was able to join us at church on February 16th having missed only two Lord's days, was baptized, and partook of the Lord's Supper. But then, four months later, Andrew was killed in a tragic accident in which he was hit by a train.
Andrew had been a faithful attender for about three and a half years.  He had an insatiable appetite for God's word, studied it during the week, memorized it, and frequently sought clarity with regards to doctrine so as to be able to apply it faithfully to his own life, especially as he approached marriage and all the responsibilities that would bring.
A memorial service was held at Atlanta Reformed Presbyterian Church on July 12th, which his fiancée and son and her aunt, his parents and half-sister, and friends of his mother attended.
The sermon at the memorial service was entitled "Counting our Days", an exegesis of Psalm 90, verse 12.  This psalm, which was originally a prayer of Moses in which he reflected on the shortness of life, urges us to be wise in how we live.   Utilising the entire psalm, Pastor Frank talked about what it means to count our days, and why we should do that.  Andrew, he told us, lived 13,498 days, which may seem like a big number but, in point of fact, is a finite number, with every second moving us closer to the end of our days.  And, of course, when our days are up, we enter eternity.
Knowing this, we count our days so that we may seek wisdom.  What is wisdom?  Pastor Smith made the point, that on one level, wisdom means following all kinds of wise sayings, such as, "A penny saved is a penny earned."
But the wisdom of which Psalm 90:12 speaks is much deeper than that.  True wisdom, he averred, is based on knowledge of God.  It shows itself in repentance of sinful deeds, and in faithfulness such as that which Andrew showed in his faithful church attendance and his servant's heart.
Finally, Pastor Frank said that, if Andrew could speak to us now, he would encourage all of us to count our days and respond to the gospel today, because we don't know how many days each of us has left.
Andrew was a very special person, whose presence among us was enjoyed by everyone in our congregation.  He is greatly missed, even as we rejoice that he is now safely in the presence of his God and his Saviour.